La Vieille Capitale: Quebec City, Canada (October 23-28, 2017)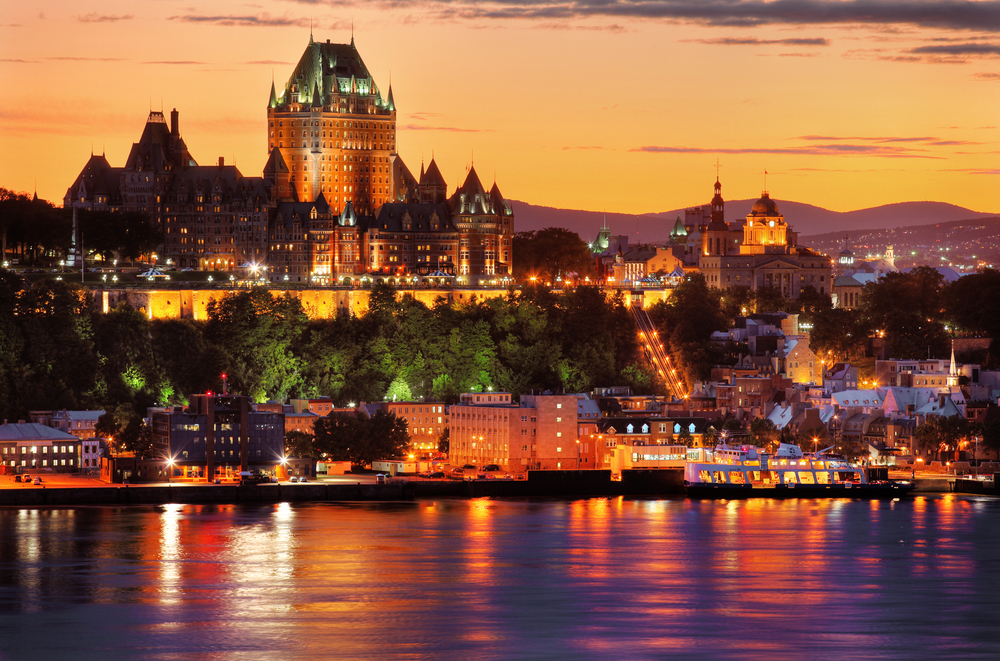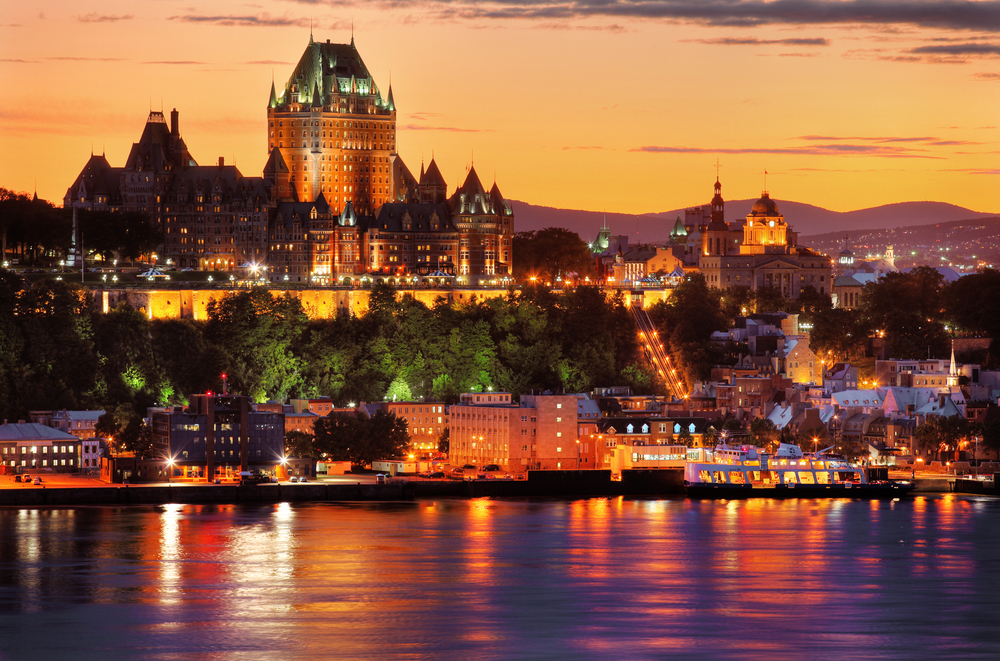 sold out
La Vieille Capitale: Quebec City, Canada (October 23-28, 2017)
TOUR PRICE: Based on current exchange rates, the price for this six days, air-inclusive tour package is only $1276.00 per person double occupancy for those staying at the Manoir Victoria Hotel or $1888.00 for those staying at the Hotel Frontenac. The single supplement for those staying in the Manoir Victoria is $424.00 and the single supplement for the Frontenac option is $1040.00. For those who wish to have triple occupancy (three to a room sharing two double beds), the price would be only $1188.00 per person for the Manior-Victoria and $1592.00 per person for the Frontenac. For those families who wish to have quad occupancy (four to a room sharing two double beds), the rate would be $1140.00 per person for the Manoir Victoria and $1440.00 per person for the Frontenac. Air taxes of approximately $99.00 are additional. (All rates are based on a minimum of 30 passengers in each group.)
AVAILABILITY: SOLD OUT.
The birthplace of French North America, a UNESCO World Heritage site and the only walled city north of Mexico, Quebec City is an open-air treasure chest that will delight history and culture buffs alike. Its European background and modern, North American character are fueled by a heady blend of history, traditional and contemporary art, and French-language culture to make Quebec City a destination like no other.
Quebec City is renowned for the quality of its fine dining and has a little black book's worth of local and European-style restaurants, sidewalk cafes, and cool bistros where you can enjoy local produce, fine cuisine, and innovative global fare, including no fewer than 100 memorable restaurants in the historic old city alone.
Quebec City is so European and yet so close. With 400 years of history behind it, Quebec City is a magnificent destination for a short getaway such as we are offering below.
And you will have two options for hotel accommodations: most of you will probably want to stay at the four stars, centrally-located Manoir-Victoria, but for those of you who want to splurge, we will have a limited number of rooms at the Quebec City icon, the Hotel Frontenac. Once we have established our final pricing (roughly 11 months prior to departure), we will list prices for both options.
Below is a copy of our itinerary for this tour with some fabulous sightseeing, including some excellent optional excursions:
DAILY ITINERARY:
Day 1 - October 23, 2017: Arrival Quebec City
Upon arrival at Quebec City airport you will be met by your tour guide and transferred to your hotel. Rest of the day at leisure and overnight Quebec City.
Day 2 - October 24, 2017: Quebec City Tour
This morning, enjoy a city tour of Quebec City with a local guide. Quebec City has much to offer of historical and cultural significance. We will see the historic walled city, the fort, the Dufferin Terraces overlooking the St Lawrence river, the old port and the Quebec Parliament buildings. Afternoon at leisure and overnight Quebec City.
Day 3 - October 25, 2017 - Free Day or Optional Excursion
Optional Half day Montmorency Falls, Ile d'Orleans & Sugar Shack Lunch (6hrs):
Today enjoy a visit to the Montmorency Falls Park, located east of Quebec City. The Park offers spectacular views of the 83-metre (272 ft) high falls, the St. Lawrence River and the south shore of Quebec. The park features many points of interest including an interpretation centre, restaurant and a cable car for a ride to the top terrace for panoramic views. Bridges and pathways lead to grassy areas for picnic lunches or various views of the surrounding natural setting. Then we will visit lle d'Orleans, a small island located in the middle of the St. Lawrence River. The Island is considered to be the cradle of French-Canadian society, and is a genuine rural district minutes away from Quebec City. It is renowned for its churches, mills and houses dating from 1700, most of which are of original décor. The road circling the island passes through each of the six villages and gives a unique view of historical French Canadian life. We will make a stop at a local Sugar Shack where we will enjoy lunch. Menu: Pea Soup, Pork Rinds, Bread and Homemade Ketchup, Baked Beans, Meat Pie, Maple Ham, Boiled Potatoes, Scrambled Eggs, Traditional Pork Meatball Stew, Pancakes served with Maple Syrup and Sugar Pie, Coffee, Tea, Herbal Tea, Taffee on Snow. Included is also a tour of the facility where the group will learn the process of making Maple delicacies.l
Day 4- October 26, 2017: Free day or Optional Excursion:
Optional Half day Beaupre Coast (4hrs):
Leaving Quebec City going east travelling along the St. Lawrence River our first stop will be made at Albert Gilles Copper Art Boutique & Museum. The museum is divided in 2 different areas; in the first area you will discover the mysterious atmosphere of a copper mine. See the copper bearing rocks and then admire the fine artefacts collected around the world. Then in Christorama, this is the story of the Life of Christ told in 50 hand wrought silver panels, done over a period of 15 years by the master craftsman Albert Gilles. Creator of the Basilica Sainte-Anne church doors, Mr. Gilles did church work in about 60 churches around Canada and United States. Now that you have seen, let's try to recreate some of the artwork with a "Repousse" copper workshop. You will be given a small sheet of copper and with our tools, you will experiment the art of repoussé. Then we continue to St. Anne de Beaupre Basilica & Museum where over 300 years of pilgrimage and fascinating history are commemorated. Return to Quebec City.
Day 5- October 27, 2017: Free Day or Optional Excursion:
Optional Full day Montreal excursion (12hrs):
Morning depoarture for Montreal. This fascinating city has grown from a small 17th Century French colony into a thriving metropolis which is the second largest French speaking city in the world. Renowned for its excellent shopping, fine restaurants, lively nightlife, rich culture and history. Upon arrival in Montreal we will be met by a local step-on guide for sightseeing. The tour will pass the St Joseph Oratory, Mont Royal for views over the city, the old port and old Montreal with its cobbled streets and colourful cafes. Continue to Notre-Dame Basilica (admission included) which rests on the remnants of the original chapel dating back to 1673, before touring the shopping street of St. Catherines and the downtown business district. Some time at leisure before returning to Quebec City.
Day 6 - October 28, 2017: Quebec City departure
Time at leisure until your departure transfer to Quebec City airport for your return flight home.
SUMMARY OF TOUR INCLUSIONS: This six days, air-inclusive package includes round trip air transportation on Delta or Air Canada to/from Quebec City, Canada; private motor coach transfers between the airport in Quebec City and the hotel with English-speaking Meet and Greet assistants; five nights at either the Fairmont le Chateau Frontenac Hotel or the Manoir-Victoria Hotel with Canadian breakfasts daily; all hotel taxes and service charges; a half day guided tour of Quebec City; and the opportunity to participate in a number of fantastic optional excursions as outlined above.